ISTA Forum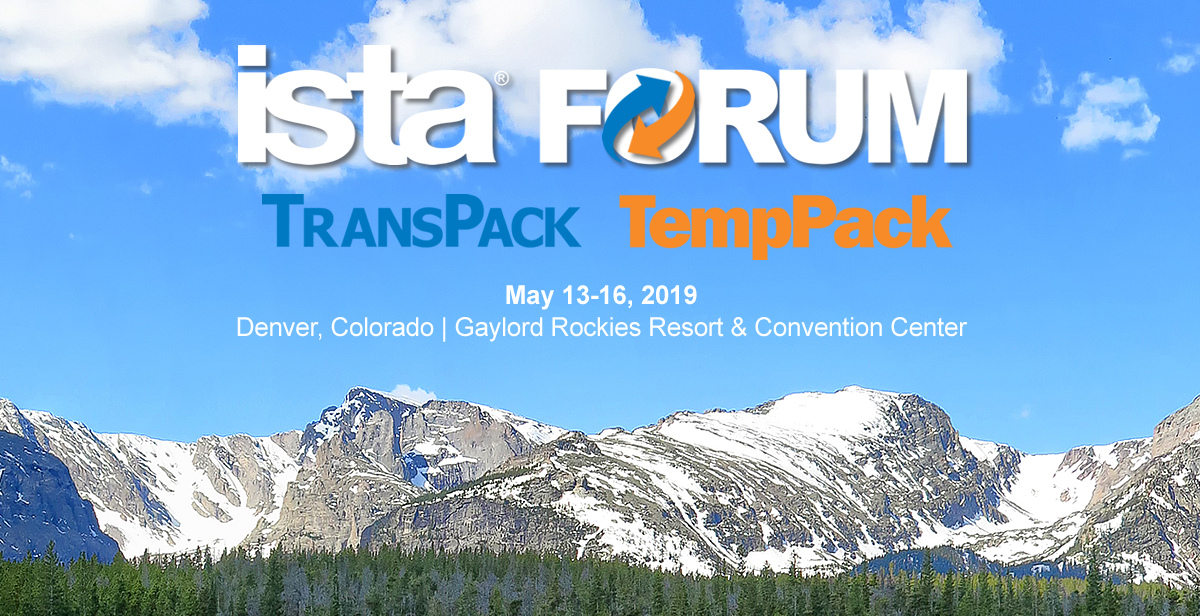 ---
REGISTRATION IS OPEN !
We are pleased to be hosting the 2019 ISTA FORUM next May 13-16 in the Mile-High City – Denver, Colorado – at the brand-new Gaylord Rockies Resort & Convention Center. Certified Packaging Laboratory (CPLP) and Responsible Packaging by Design (RPbD) Training and Certification will be offered prior to the Forum on May 12th and13th. Register today to join us in Denver!
ISTA's FORUM brings together the packaging community through two co-located events, TransPack and TempPack. TransPack provides a balance of valuable presentations, case studies, research and solutions from world-leading experts surrounding the optimization of packaging for transport. TempPack focuses on technical topics related to global temperature controlled performance packaging. The TempPack Forum creates an opportunity for presenters to share their insights, challenges, case studies and research having a direct impact on the industry. Both programs are designed to create opportunities for you to network with like-minded professionals who are facing the same challenges in all different sectors and verticals. You can expect to build new relationships and create resources with people centered on the transport packaging industry.
Interested in learning more about the 2018 programs? Click here: 2018 TransPack and 2018 TempPack
---
CALL FOR SPEAKERS !
Speaking at the ISTA FORUM provides numerous benefits for you, your projects and your company including exposure and credibility as an industry forerunner. Attendees join us to step back from their day-to-day to think about big ideas and what's next in their world. As a speaker, you have the potential to catalyze great ideas on the latest industry research, innovations and trends. Submit an abstract today for consideration and share your passion, grow your professional development and be recognized as an industry expert! If selected to be a program speaker, your attendee registration will be waived.

Click here to submit an abstract for the ISTA FORUM

Topics related to but are not necessarily limited to include:

Packaging Performance Testing Applications and Research

Challenges of Protective Package Design

Quality Assurance and Validation Best Practices

Damage Reduction Success Stories

e-Commerce Packaging

Sustainable Packaging Development

Optimization of Packaging Systems Case Studies


Case Studies on gathering Lane Data (temperature, shock, vibration)

New Methods for Protecting High Value Product in the Supply Chain

Unique Algorithms that Simplify Supply Chain Decision Making

Unique Design and Distribution Challenges Posed from Large Molecule Protein Solutions

Use of the Internet of Things (IoT) for gathering or acting on temperature data within a supply chain.

Simulation Applications as a Tool for Reducing Laboratory Studies




Innovative Cold Chain Packaging Solutions



---
THANK YOU 2019 ISTA FORUM SPONSORS!

Premier ISTA FORUM SPONSORS:

Lunch ISTA FORUM SPONSORS: