Advertising
Resource Book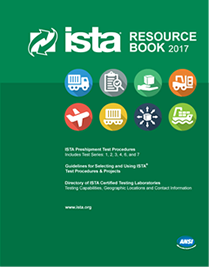 The
ISTA Resource Book
contains ISTA Test Procedures along with the
Guidelines for Selecting and Using ISTA® Test Procedures and Projects
. Only members receive the ISTA Resource Book free of charge. Nonmembers may purchase the Resource Book by visiting our Store.
Advertising opportunities are available.
Click here to download the Advertising Rates and Order Form.
Click here to order your Resource Book advertising at ISTA's Store.
Deadline for submitting an ad for this publication is January 22nd.
Please contact Kathy Joneson at (517) 333-3437 ext 214 for further information.
---







ista views
This high-quality digital publication is a reliable source of transport packaging news and information that keeps packaging professionals informed, involved and connected to the industry. ista views contains technical articles, member and industry news, and regular features such as Technical Updates, Certified Packaging Laboratory Professional news and Welcome to our New Members.
Digital format provides enhanced opportunities for advertisers including:
Interactive full hyperlinks to advertiser's website URL
Multimedia file insertion; additional fee o Interactive ads engage readers' interest
Online archive of ista views extends the shelf life of an ad indefinitely
Published 4 times each calendar year - March, July, September, December.
Circulation 7,500+. Four color and B/W ads available.
Please contact Kathy Joneson at (517) 333-3437 ext 214 to request advertising rates and contract information.
Access all issues of ista views
Click here